Indochina Kajima signs Hotel Management Agreement with Mandarin Oriental
On November 29th, 2022, Indochina Kajima Development Limited (Indochina Kajima) held the signing ceremony of the Hotel Management Agreement with Mandarin Oriental Hotel Group for Mandarin Oriental, Bai Nom, an ultra-luxury resort located in Phu Yen Province.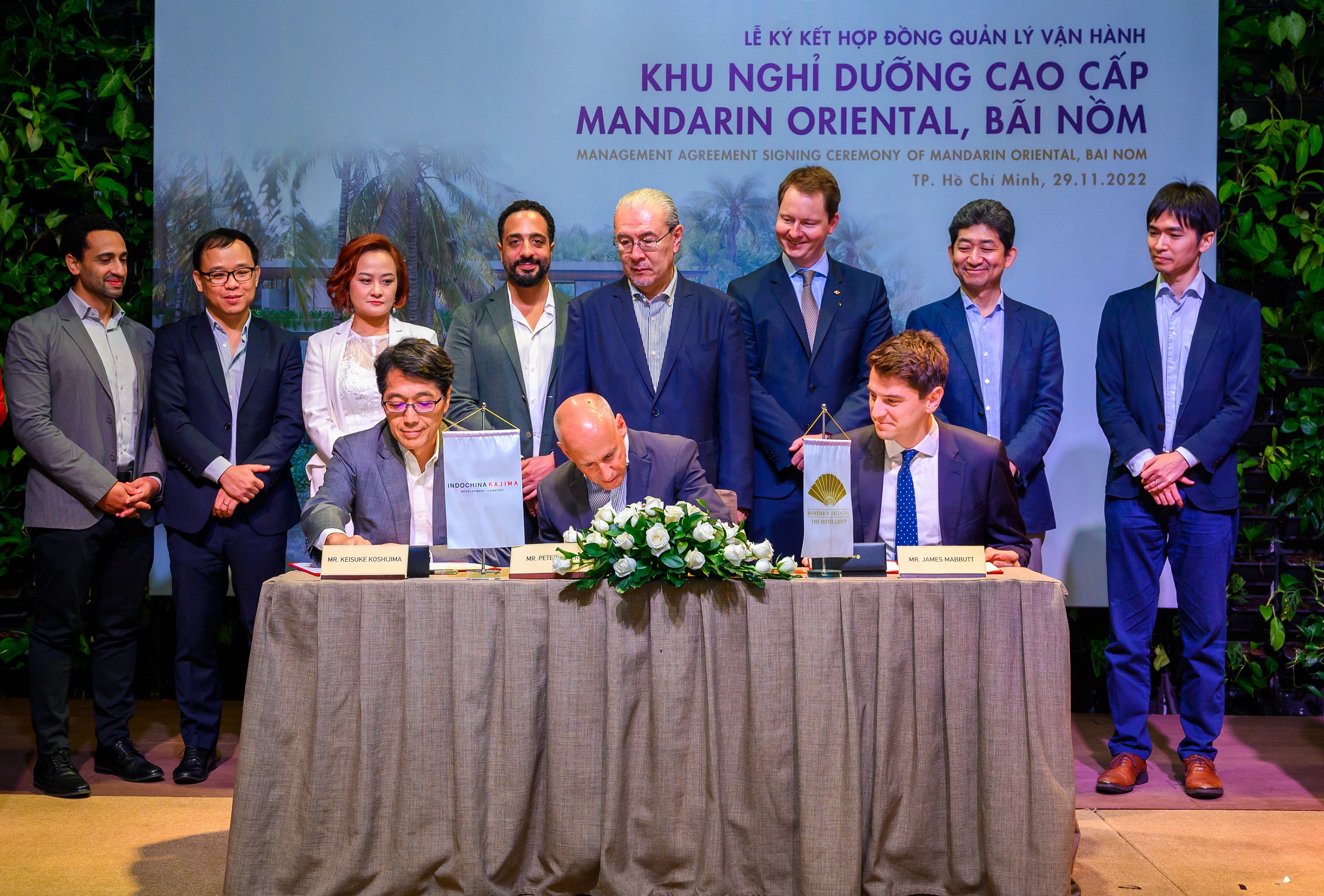 Mandarin Oriental, Bai Nom is situated in Phu Yen Province near the border of Binh Dinh Province, home to Quy Nhon City, an established tourism area. While Phu Yen is situated within Vietnam's well-developed and renowned Central Coast, it remains pristine and naturally stunning, ideally suited for the development of a tranquil and private luxury resort.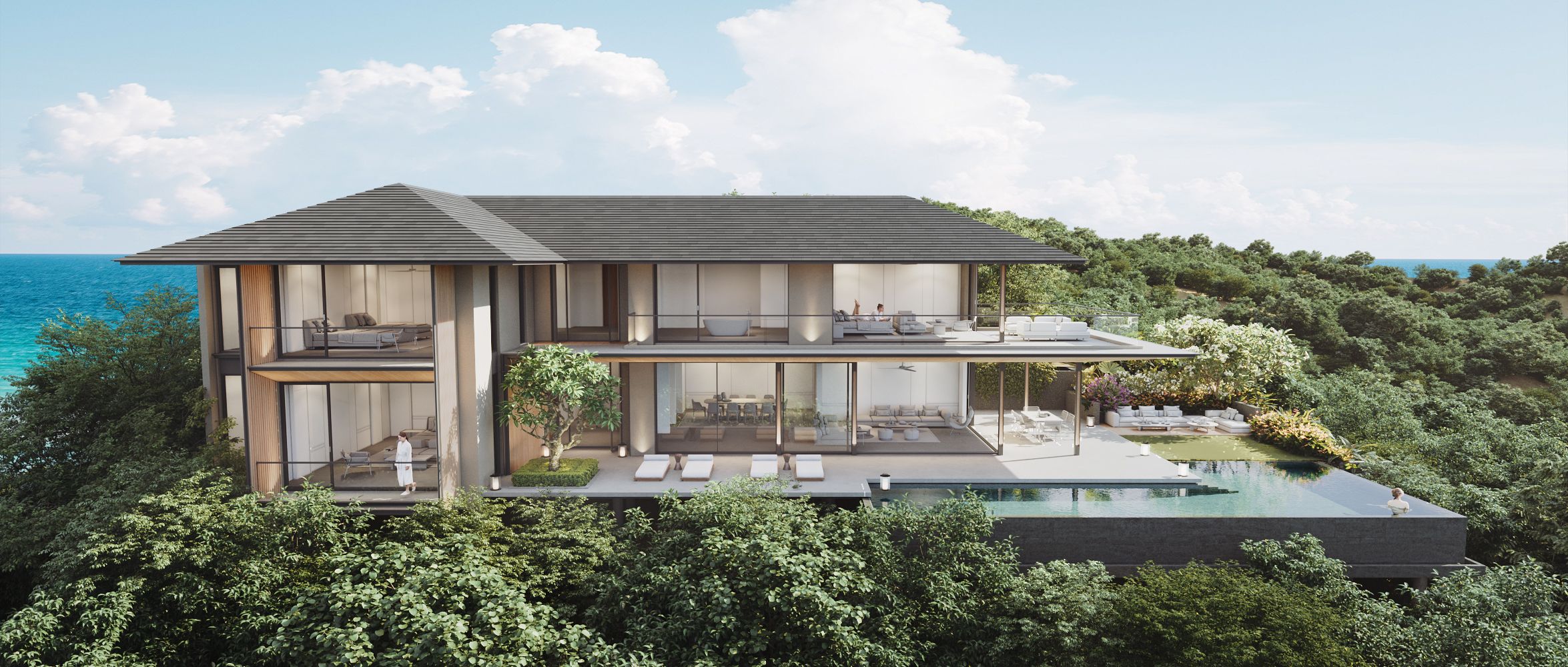 The resort covers a unique 29ha site—approximately 50% of the entire site owned by Indochina Kajima—located adjacent to Hoa An, a traditional fishing village. Pristine and remote, the entire site encompasses a complete private cove with an untouched beach spanning more than 800 meters bordered to the north and south with promontories elevating up to 80 meters featuring panoramic views following Vietnam's spectacular coastline north and south and mountainous interior.
When completed the resort will feature, spacious accommodations housed in 72 suites and villas, including 25 private and exclusive Residences at Mandarin Oriental, Bai Nom. Guest accommodation, directly on the beach or dotted over the hillsides, will feature private landscaped terraces and pools. The expansive branded residences will house three to five guestrooms with private gardens, pools, and terraces. Indochina Kajima and Mandarin Oriental are working together to ensure the resort is designed and developed in a responsible way.
Mr. Peter Ryder, CEO of Indochina Capital and Board Member of Indochina Kajima, commented on the design of the resort, "Indochina Capital has an unparalleled track record in master planning and developing Vietnam's best luxury resorts, having developed Four Seasons, The Nam Hai and Six Senses Con Dao. Indochina Kajima will expand on this track record with Mandarin Oriental, Bai Nom which will aim to set a new benchmark in Vietnam in terms of design, construction quality, operations, and sustainability. The resort will be a sparsely populated, low-rise development in a pristine untouched natural setting, inserting modern Asian luxury building design into the natural landscape. Timeless architecture and modern interior designs will set a strong sense of place by using locally available materials and Vietnamese cultural design elements. The juxtaposition of the finely crafted villas against the natural untouched landscape, cliffs, beach, and sea, will allow the melding of the indoor and outdoor experience, creating an unparalleled guest experience".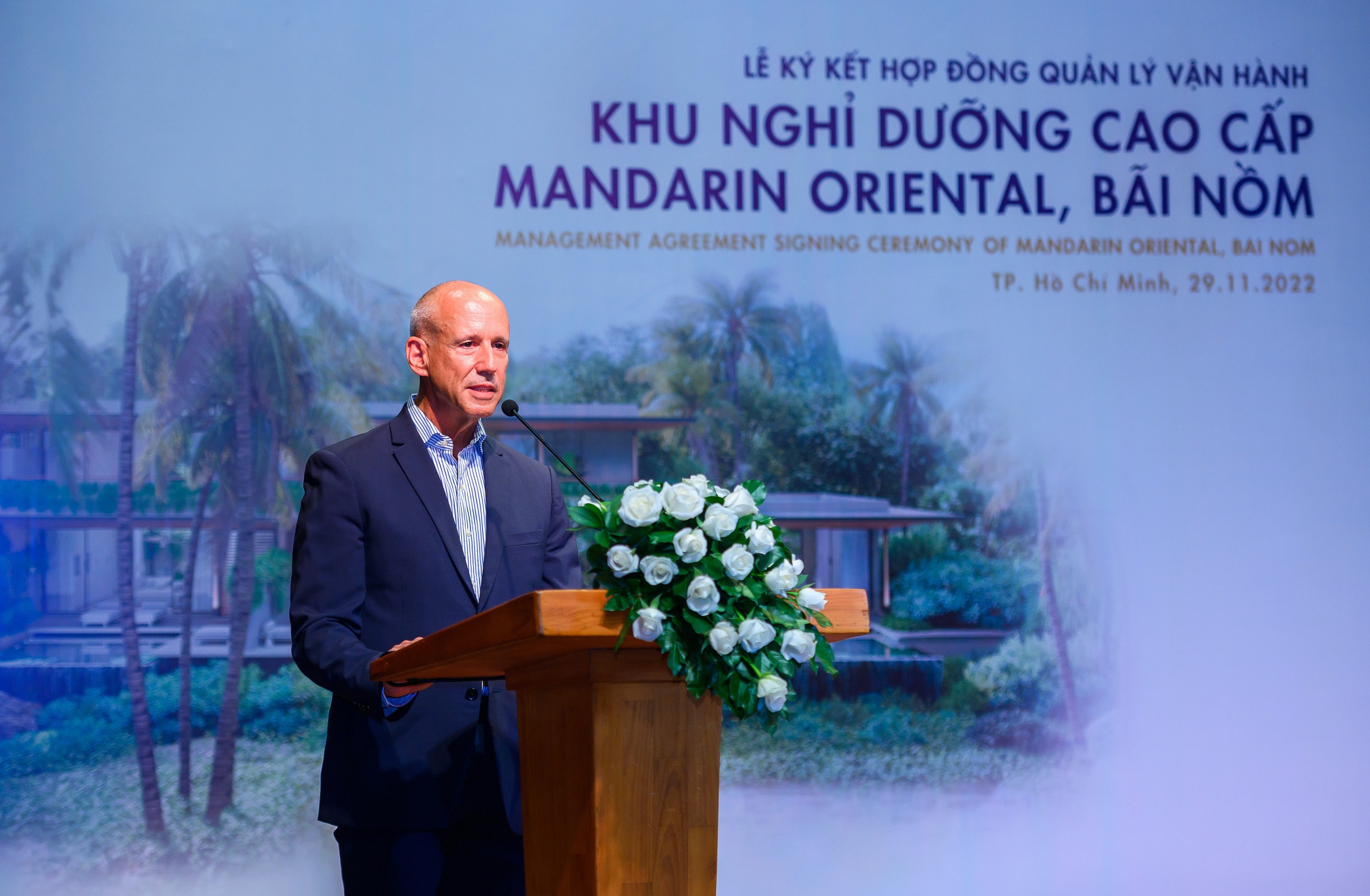 Mr. Keisuke Koshijima, Representative Director and Executive Vice President of Kajima Corporation and Board Member of Indochina Kajima, shared his opinions on the potential of Phu Yen's hospitality market: "Phu Yen has many favorable conditions for tourism development. Visitors have an abundance of cultural, recreational, and natural tourism attractions. Most importantly, the remote and pristine nature of Phu Yen Province is advantageous compared to more developed tourism markets such as Nha Trang, Da Nang, and Phu Quoc, which have lost some of their natural charm. Long term, we believe Phu Yen Province will develop into a luxury tourism destination, and Mandarin Oriental, Bai Nom will carry on Kajima Corporation's rich tradition of developing world-class resorts across the globe".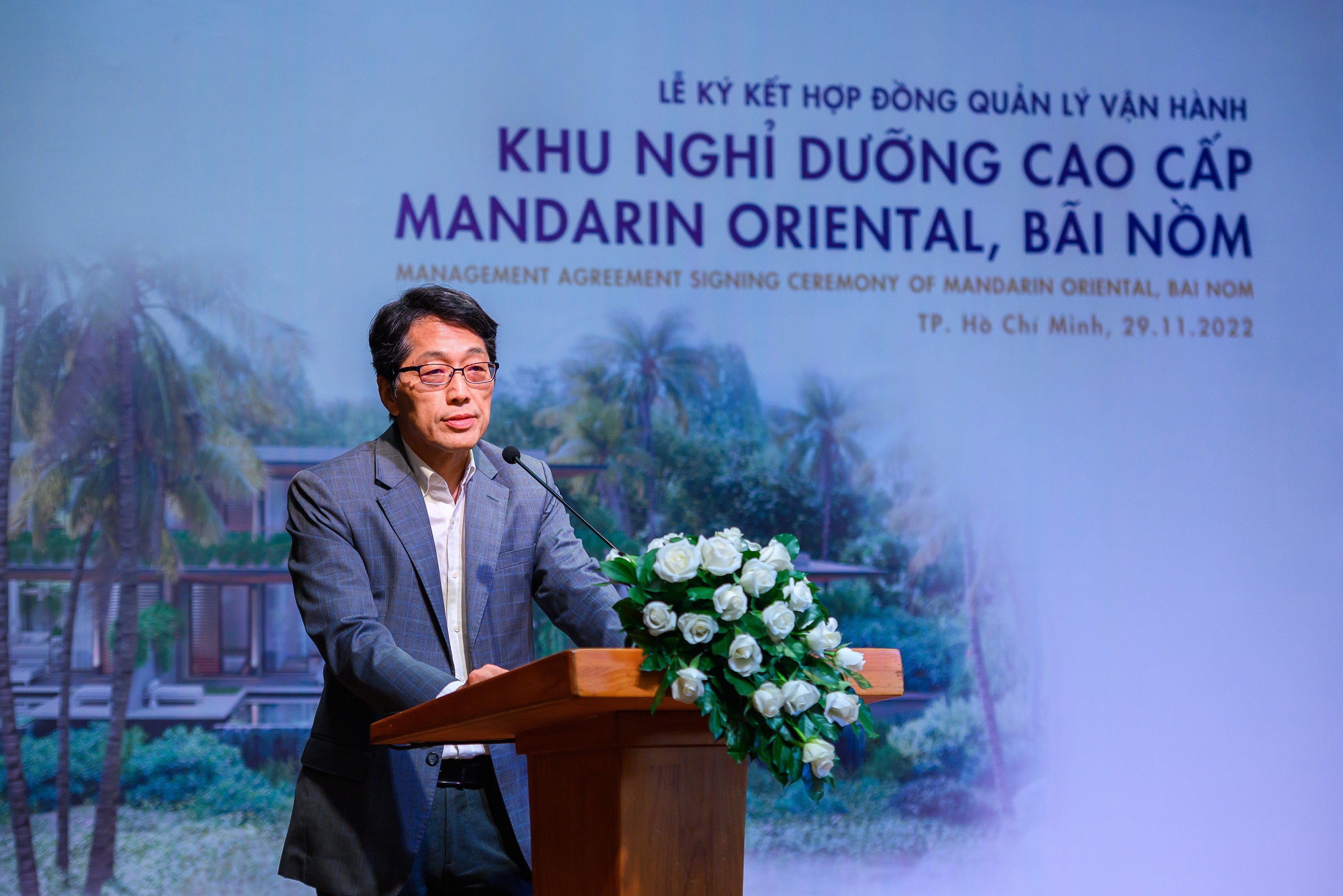 To carry out the management and operations of this spectacular resort, Indochina Kajima is partnering with Mandarin Oriental Hotel Group, the award-winning owner and operator of some of the world's most luxurious hotels, resorts, and residences. Having grown from its Asian roots into a global brand, the Group now operates 36 hotels and 8 residences in 24 countries and territories, with each property reflecting the Group's oriental heritage, local culture, and unique design.
"We are excited to be bringing Mandarin Oriental's legendary service to what promises to be a world class resort and we are delighted to be working with our partners who share the same strong commitment to responsible tourism," said James Riley, Group Chief Executive of Mandarin Oriental. "The project will complement our two hotels under development in Saigon and Da Nang. This will provide our fans with an opportunity to experience three diverse and fascinating aspects of Vietnam," he added.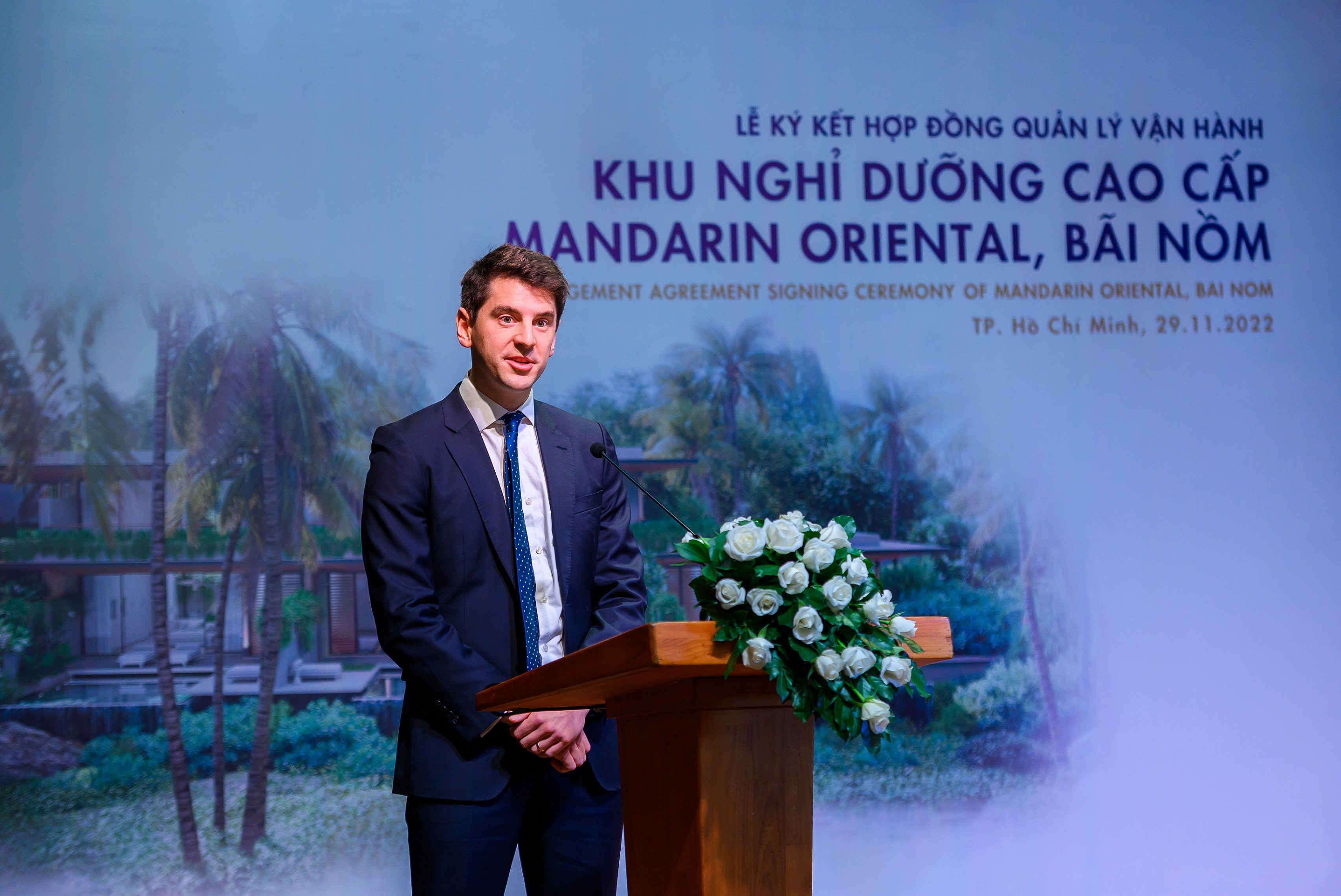 Indochina Kajima has appointed a world class, and award-winning team of consultants to design Mandarin Oriental, Bai Nom and will cooperate with best-in-class construction and project management companies to build the resort. Construction of the main works is expected to commence in the 2nd half of 2023 and complete by end of 2025. The resort is scheduled to be operational in the 1st half of 2026.